How much you can earn as a Digital Marketer in India ?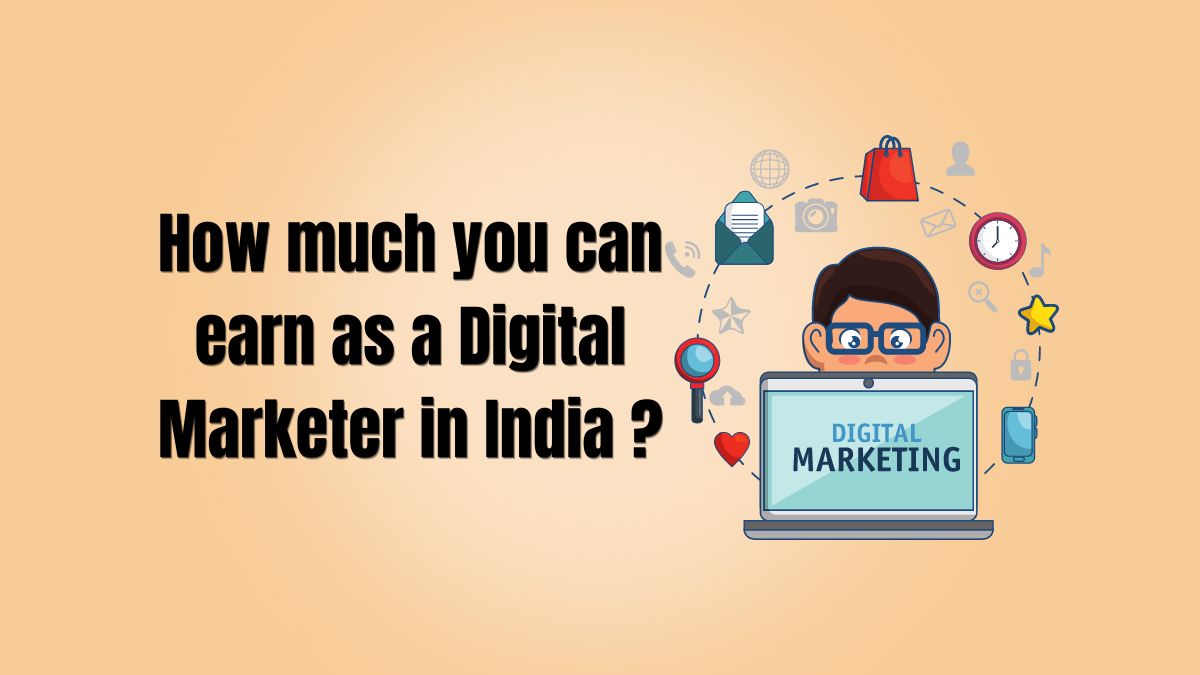 As we know, there is a growth of online businesses and creator economy in India. It is also a general trend we see across the globe. Therefore a lot new age jobs have come into picture which is also popular among the youg population. As the title suggests, in this article we will be learning about the earnings of one such profession – i.e., Digital Marketing. However, before we go further, let us discuss some of the basics of the profession.
In this acticle we will cover-
What is Digital Marketing?
What does Digital MArketer do?
What are the skills required for the job?
How much you can earn as a Digital Marketer in India ?
So let's start with…
WHAT IS DIGITAL MARKETING?
Digital marketing is basically online marketing and the promotion of brands to connect with potential customers using the internet and other forms of digital communication. This includes not only email, social media, and web-based advertising, but also text and multimedia messages as a marketing channel.
WHAT DOES A DIGITAL MARKETER DO?
He/She is responsible for using digital channels and medium to generate leads and build awareness of the brands.
WHAT ARE THE SKILLS REQUIRED FOR THE JOB?
There are a lot of skills required for one to be called as degital marketer.
1. SEO
SEO or Search Engine Optimization is one of most demanded skills. It is essential for improving the search rankings any social media profile or website and hence is must for a Digital Marketer. Some basic skills are
target keywords
on – page and off-page seo Knowledge
Kmowlegde of tools such as google analytics, google search console, etc.
2. Social Media Marketing
Social media is used more than ever. Post covid, businesses have shifted to or transferred a big chunk of their businesses online which calls for professionals who can handle their social media pages and market them. Some of tools are Facebook Business Manager, Hootsuite, Buffer, etc.
3. Analysing Data
The skill of Analysing data is omnipotent in most of the jobs. Digital marketer should know how to use Google Analytics even if they are not data scientists. Getting insights of the audience and then utilising it to its full potential is the main job of a Digital Marketer.
4. Advertising
Advertising with pay- per- click should be known as well understood by marketers. As they will be working with brands who would need marketing with facebook ads , google Adsense and other programs.
5. Email Marketing
A Digital Marketer must not be proficient and expert in Email Marketing but they should have the basic knowledge and understanding of it. Email marketing is still one of the best ways to market and build a consistent and a niche audience.
ROLES AND EARNINGS
The skills mentioned above were general however there are different job roles in which different set of skills are required. The salary and earnings vary according to the roles and responsibilities of a Digital Marketer. Here we will try to get insights on the average money earned by different marketers.
1. DIGITAL MARKETING INTERN
The Digital Marketing Interns generally assist the Digital Marketing MAnager . The annual salary ranges from 1 to 2 lakhs per annum. With experience, it starts to increase.
2. EXECUTIVE JOBS
A Digital Marketing Executive in India is responsible for planning and executing all aspects of an organisation's online marketing strategy, including market research and targeting, social media outreach, search engine optimisation, newsletters and direct campaigns, lead generation, brand building, and conversions. A digital marketer executive may earn anywhere between 18k to 35k depending on the experience.
3. DIGITAL MARKETING MANAGERS
They are incharge of online strategies. They monitor and evaluate the results. The average earnings are somewhere between 5lakh to 7 lakh per annum.
4. SEO ANALYST
SEO Analyst earns somewhere between 3.2 to 5 lakhs per annum. The income differs a lot depending on experience and knowledge.
5. GOOGLE ADS ASSOCIATE
performs End to end campaign management (From forecasting to executing, monitoring, evaluating and optimising campaign performance to generate maximum leads). Google Ads Associate earn somewhere around 30to 35k per month.
6. SOCIAL MEDIA MANAGER
They supervise an organisations social media strategy. They build a strategy, create content, analyse usage data, facilitate customer assistance, and manage projects and campaigns. They earn somewhere around 3.5 lakhs to 4 lakhs per annum.
Apart from all the above mentioned roles at a company, one can also do these jobs a s a freelancer where the chances of earning are much more than what is mentioned. The sky is the limits.
How much you can earn as a Digital Marketer in India ?
The average salary of a Digital Marketing Manager (entry-level) is ₹5,48,755 per annum in India. Whereas, a Senior Digital marketing manager's salary ranges between ₹7,09,800- ₹10 lakhs, who has over 5-9 years of experience in India.
Hope you get the idea and answer of your question on How much you can earn as a Digital Marketer in India.

Click here to grow free instagram followers daily